One of the most important aspects of the planning process for any business looking to organise a meeting/conference is choosing a venue.
For smaller meetings, a more intimate venue may be best suited for your needs. For larger events, a venue that can offer ample meeting space with breakout
rooms, restaurants, accommodation, outside space and leisure facilities will be better suited.
We have come up with a list of important factors you should be considering when picking your venue
along with questions that you should be asking to marrow down your options and help find the best venue that will suit all you requirements.
Function Room Size
Probably one of the most important factors. Is the function room space going to be big enough for what you need?
To know this, you will need to know how many people will be attending and an idea on the layout of which you would like the meeting to be set up
e.g. Boardroom, Horseshoe etc.
It is always worth asking the the venue for a breakdown on the
layouts they can offer within each function space and the capacities they can hold for each layout.
Packages
Venue meeting package options are an important thing to consider when deciding
on your perfect venue. It's worth knowing whether your meeting will be a full day
or half a day event before looking.
Will you need to eat throughout the day or want to add in any tea and coffee breaks to split up the day for your attendees?
What packages can the venues offer?
Do they include all refreshments and food options along with function space hire costs?
Can they cater a package to suit your needs?
Overnight Accommodation
Do any of your guests have a long way to travel to come down for the meeting and need a place to stay?
Maybe your meeting or conference is over a few days and everyone will need accommodation.
This is something you will need to check before checking with the venue for the following: Does your venue offer accommodation options?
Is this included within any of the packages provided to make it cheaper for you all?
What other facilities do the venue offer e.g. leisure/gym facilities?
Do they have bedrooms suitable for business guests, offering space to work away from home if required?
Parking
Yep that's right, parking is always an important factor, especially when looking into
larger scale events with a lot of attendees.
Are there enough spaces for all those attending?
Is the parking free for all your attendees or will they have to pay?
If the car park spaces run out, is there other parking options available within close
distance to the venue chosen and again, are these free?
Internet Access
Do any of the presentations, or information needed during your meeting/conference require you to be online?
If so, does the hotel have WI-FI available?
Is the WI-FI free to use or is there any charge?
Will the WI-FI connection be strong enough for your needs and the amount of attendees that will need to use it?
Equipment Hire
Does the hotel provide projectors and screens, or will you need to bring your own?
Is this included within the package or is there an additional cost for usage?
Can the hotel provide flip-charts and pens? If so, how many do they have
and how many do you need? If they haven't got enough, can they hire more?
Can the hotel provide extensions cables, or will you need to bring your own?
Can the hotel provide pads and pens, or will you need to bring your own?
Why choose the Riviera for your conference venue?
Located in the prestigious Alum Chine, The Riviera is a stylish venue with
elegant interiors. The Riviera boasts five bright, spacious event spaces that
feature natural daylight and air-conditioning with complimentary WIFI.
Our events team will help organise your event, from your initial enquiry to
liaising with our team, to ensure that your event is a great success.
To complement your event, your delegates can relax, unwind and reflect
in our breakout lounge, where they can enjoy refreshment breaks with
nutritious snacks, or enjoy delicious healthy lunches.
A dedicated events coordinator will be assigned to your event and will
assist with the following plus any other reasonable request:
Take initial enquiry
Provide full quotation
Prepare & send contracts
Liaise with all departments to ensure meeting is a success
To greet clients on the day of arrival
To ensure meeting runs smooth
Contact after the event for any feedback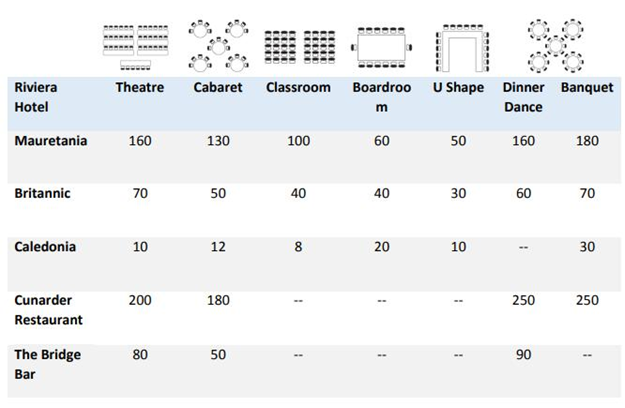 Our Meeting/Conference Packages 
Special Day Delegate Rate – From £27 per person
Equipment (data projector, screen, flipchart & pens)
3 servings of tea/coffee/biscuits
Day Delegate Rate – From £32.00 per person
All our meeting rooms can be set up for specific requirements depending on occupancy.
Each room will be set to your specification to include comfortable chairs,
glasses and fresh water.
Room hire
Equipment (data projector, screen, flip chart & pens)
Bacon sandwiches on arrival
Unlimited tea/coffee/biscuits
Hot and cold buffet lunch
Homemade cakes with the afternoon break
Our dedicated and professional team at the hotel, ensure that all events
are hassle free, from the initial enquiry through to the event itself which
is why many companies & associations return to us year after year.
24 Hour Day Delegate Rate – From £99.00 per person
Equipment (data projector, screen, flip chart & pens)
Bacon sandwiches on arrival
Unlimited tea/coffee/biscuits
Hot and cold buffet lunch
Homemade cakes with the afternoon break
Access to The Coast Spa, indoor pool & gym
Room Hire Only:
Mauretania suite full day – £400.00
Mauretania suite half day – £300.00
Britannic suite full day – £375.00
Britannic suite half day – £275.00
Add tea/coffee/biscuits – £1.95 per person per serving
If you are interested in any of the above or would like move information,
please give our events team a call on 01202 763653 or email them on
events@rivierabournemouth.co.uk