Trying to organise the perfect baby shower for yourself, a friend or relative but unsure on where to book?
We have put together our top tips for booking a baby shower at a hotel to help you on the path to baby shower planning success:
Why Hire A Hotel?
Hiring a hotel allows you to eat and drink from the finest of china, a selection of freshly cooked food made by someone else, leaving you without the hassle of having to do it all yourself.
Instead you are free to relax and enjoy the fun.
Most hotels allow you to bring decorations but do not expect you to decorate.
They are more than happy to do the decorating for you so you have more time to ready.
They may even be able to help with the arrangements, providing you with a selection of suppliers
they have used in the past that you could purchase your decorations, cake etc. from.
Many hotels also more than likely have private function rooms you can hire,
allowing you a level of intimacy you may not get in the main dining area.
You may find there is normally a room hire charge if you do not invite up to a certain amount of people
but it is always worth an ask.
The Riviera are very happy to pitch in and help decorate on the day if needed.
We will even provide you with the chair covers, table cloths, napkins and a selection of coloured sashes to choose from.
We cater for parties of all sizes – for 30 or more you can reserve the Britannic Suite exclusively
for the afternoon, or for smaller gatherings we can reserve you the Caledonia suite
with a view of the alum chine gardens and the ocean.
How do I pick a theme?:
Picking a theme for a baby shower can be a very strenuous and mind boggling task
so here are just a few ideas to help you on your way:
The most popular baby shower themes we have seen used are normally based on colour,
whether or not the baby is a boy or a girl.
This will decide whether or not the theme will be blue or pink.
However, what if you are unaware of the baby to be's gender?
More often than not the mother and father to be have decided they would like this to be a surprise.
So how would you go about choosing a theme and decorations for your friends baby shower? Well here is just a few ideas to help you:
Match to the Nursery Décor: You may find although the parents to be do not know the gender of their baby they have still picked out their nursery décor.
You could match the baby shower colour theme and decorations to the nursery theme they have chosen.


Nature:  There are many different ideas for a nature theme that could be done which could include:Flowers, Clouds, Baby Animals etc.
They are all popular baby themes and are fun to do.
They could even be based on a particular favourite animal of both the mother and father to be and can be a good way of making a reluctant father to be feel involved too.
You could use an array of brightly coloured balloons or even get the supplier to shape them in to certain animals or flowers for you.
Why not try looking at Bournemouth balloons for some inspiration or ordering some beautiful flowers from By Arrangement Florist in Bournemouth.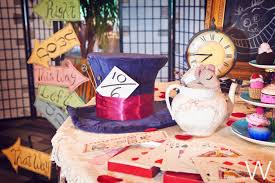 A book themed baby shower: Celebrate the mom-to-be's love of literature or a particular story book or movie
with a whimsical menu, darling decorations, and plenty of fairy-tale fun.
For example: if the mum to be is a Disney fan then why not have a mad hatter's tea party!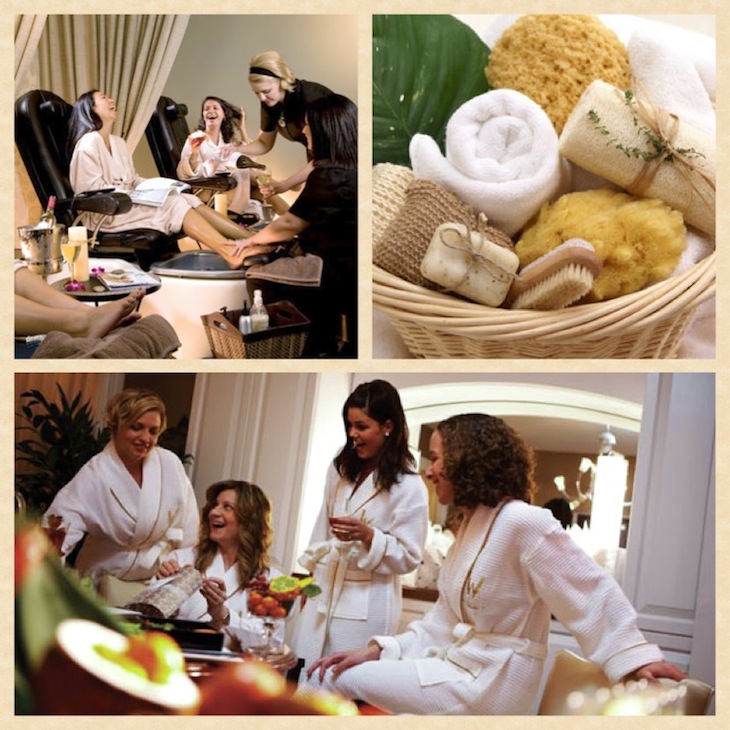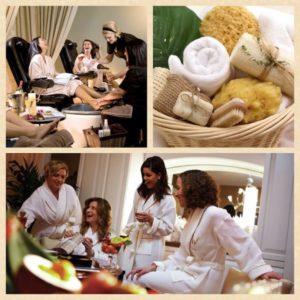 Spa Baby Shower: Since the mother to be will have little time to spoil herself once the baby is born,
now is the perfect time to get her and all of her friends together and spoil them with a relaxing afternoon of pampering.
Why not treat the mum to be to a manicure or pedicure and an afternoon tea,
or let her relax and enjoy an Indian head massage or foot massage to help cure the aches and pains of carrying a baby.
Lori, our resident beauty therapist at the Riviera Hotel's Unique Boutique
offers a selection of spa packages and treatments to choose from all at reasonable prices.
You could even put your feet up in the hotels relaxation room while you wait for your treatments.
When should I send out the invitations?
Make sure to give invitations out a few weeks in advance.
Most hotels will ask for a deposit in order to confirm the booking,
the earlier you send out the invitations, the more sufficient time it gives each guest to get the money to you.
Always provide as much information on the invites as you possibly can but try not to sound too wordy,
or encourage guests to be able to contact you if they have any questions about directions to the location or gifts etc.
What should we eat and drink?
The food and drink at a baby shower need not be too elaborate.
A simple buffet with 5 or 6 options or an afternoon tea with a selection of
sandwiches and cakes will suffice and please all. It also makes it easier to choose and pre- order ahead of time
saving you so much hassle.
*TOP TIP* – make sure to check if anyone in your party has any allergies
or dietary requirements before ordering and let the venue know a few weeks before.
The Riviera provide afternoon tea packages for baby showers starting at just £9.95 per person
along with a variety of other options on our bar menu if an afternoon tea isn't for you.
If your not wanting lunch and you would like a sit down meal instead,
our Cunarder Restaurant is also open for dinner
and offers an array of different options to choose from, sourced from local produce and cooked fresh.
What should I do for a cake?


Pre-ordering a cake is always the easiest option but it is best to make sure this is done in advance.
This gives enough time for the cake to be prepared and for you to go through with the baker
how you would like the cake to look.
Although the most convenient option, this can also be the most expensive.
Why not have a look at Cakes by Suzanne or Specialty Cakes website , cake makers located in Bournemouth.
You could try baking the cake yourself.
Not only is this a less costly option but it would also be heaps of fun.
You could use your creativity and even get your friends to help.
There are loads of recipes online or in cookery books that you could follow.
You don't even have to have the classic baby shower cake and instead could mix it up with a selection of cupcakes in a stand.
You could even turn it into a game, bake lots of cupcakes and then get each of your guests to decorate their own cupcake at the shower.
What should we do for games?
Below are just a few games that could be played during a baby shower: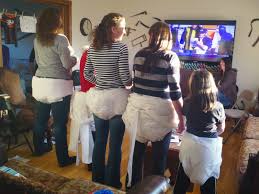 Diaper Derby: Split your guests in to two teams and hand each team a roll of toilet paper.
Give the teams a set amount of time to wrap one of their team members up in a mock diaper made from the toilet roll given.
The team with the most creatively diapered adult baby wins a prize.
This makes for some hilarious photos you will be sure to look back on and laugh at!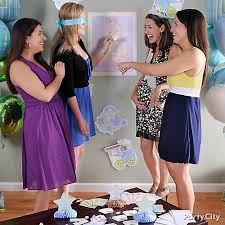 Place the baby on the mummy: Yep you've guessed it, this is a simple baby shower alternative to the classic game pin the tail on the donkey.
Blow up a picture of the mum to be with her baby bump on show.
Blind fold each guest and hand them a cut out picture of a baby.
Give them a little spin and then get them to pin the baby on the picture.
Whoever gets it closest to the tummy wins.
You could also play pin the dummy on the baby as an alternative.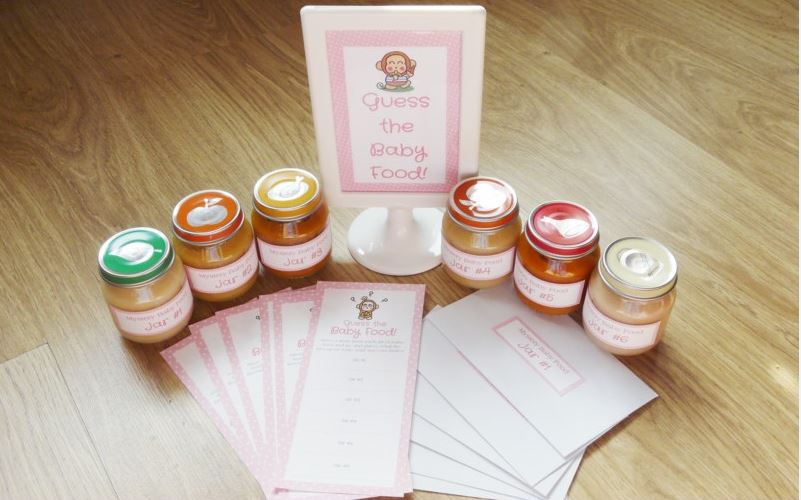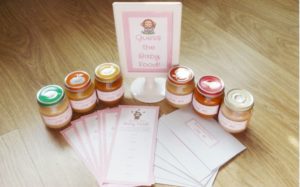 Guess the baby food: Gather together a selection of unique baby food flavours, rip off the labels and number each top.
Then ask your guests to grab a spoon and sample each, writing down what they think the flavour is as they go.
The guest with the keenest taste buds wins a prize.
*Top Tip* Having a mixed shower in which dads are invited?
Why not mix the game up a bit, blindfold the ladies and get them to feed their gents the baby food.
The gents then guess the flavour.
This helps make the men part of the fun too.
Guess the baby: Why not get every guest of your baby shower to bring a picture of them as a baby with them.
Once you have collected all the pictures give them each a number.
Then get every guest to write down who they think each picture is of.
The person with the most correct answers wins a prize.
For example: can you guess which baby is which out of our six lovely staff members?




Blindfolded Diapering:  Have guests separate into teams.
Each teams gets a doll, blindfold and diapers.
Each guest must put the blindfold on, remove the current diaper and put a new one on the doll.
After the first team member does this, they give the doll to the next, until the entire team is finished.
The first team to finish wins.

Final Touches!
Well once all the above is complete and all who are coming have paid,
all that is left to do is to arrive at the hotel an hour early to bring any decorations and the cake.
You could also get guests to arrive early too if it is a surprise shower.
Then once all is in place it's time for the guest of honour to arrive.
Now you can relax, mingle, eat, have some fun and take lots of pictures for the mum-to-be so she can remember just how amazing the baby shower you planned for her was 🙂
Answers: 1:E, 2:A, 3:D, 4:C, 5:B, 6:F